About La Blancherie
La Blancherie presents a new concept in white linen for babies and children. It is distinguished in the selection of genres and color palette of adults, but reflected in the products aimed at the little ones. We work in search of the purest lines, neutral colors, embroideries, monograms, lace, arabesques, lace, floral motifs and appliques exclusively incorporated into each of the articles produced.
The Baby line combines a contemporary European style, of elegance, adapted to the comfort of the modern mother, focusing on the well- being of the baby. The developed products are: covers, crib bumper, towels, wipes, cushions, portaenfant, changers. As well as baskets, toy containers, blankets, bibs and sheets.
It is aimed at a distinguished audience where they will find diversity in the 6 lines produced, emphasizing different textures and exclusive colors.
Craftsmanship
All La Blancherie products are handmade with savoir faire in Argentina. We take care of every detail of embroidery, clothing and fabrics used. All our fabrics receive a special care that guarantees softness and quality to all the products of the baby. As for cotton, we import it from Switzerland where we choose the most even match that ensures extreme softness for the full rest of the baby. Also all our fabrics used are hypo allergenic. We have our own workshop where the impeccable realization of the products and their development is guaranteed everyday. Our clothing workshop team is headed by women with an extense experience in the field, we believe in human work especially in senior individuals who understand and perform the original, delicate excercise of sewing, mold and design. La Blancherie is a company that supports national confection and believes in the great talent workers have in our country.
We are different and that translates into power, respect, joy and the desire to continue collaborating with each other so that La Blancherie is integrated to the world.
We invite you to immerse yourself in a world of extreme exquisiteness and delicacy.
Our Boutique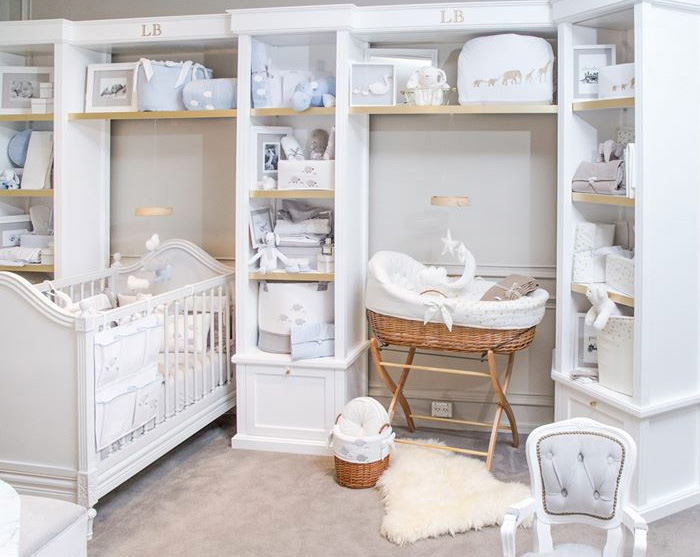 Our Maison is located in the most exclusive neighborhood of Recoleta, Avenue Alvear 1807, office 104. We have a space of 150sq meters where you can see the different bedrooms set with the most exclusive collections of the brand.
Alexia Baralia
Alexia Baralia is the young creative designer of La Blancherie, a luxury brand specializing in products for babies and children. In 2012 she won a scholarship awarded by Casa FOA, a renowned yearly exhibition of Architecture, Landscaping and Design in Argentina, to create a children's room.
This great exhibition awoke in the millenial of only 23 years of age, a great interest in the exclusive design for the little ones. "Although I had never decorated a room for babies, I began to notice a great interest in the public and then discovered there, a potential unexplored business," says Alexia Baralia.
The interior decorator, from a young age, knew that her great trade was decoration, but she never imagined that her direction was going to be oriented towards the world of motherhood. "Every time a client walks into the store we like to talk and get to know her, to know her history. Our job has a direct connection to births, life and we love that "
Today, Alexia Baralia, is dedicated to the search of trends, design of new collections, textile and product development, guaranteeing to be with the latest additions in the baby world.